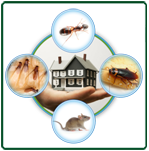 In INDIA DACAPO pest control is present in all 4 zones of the country and functional with more than 10 branches and providing services in 40 cities.DACAPO was promoted and established in Bareilly, U.P. along with a group of expert professionals, who are technically qualified and trained and have excellent track record in the field of pest management.
Our aim is to offer a new concept in the pest management field. The objective is to ensure quality and satisfactory service with utmost safety to human and the environment.DACAPO'S policy is to ensure customer safety and satisfaction by strictly adhering to quality standards and judicial application of approved, highly selective & safe insecticides. The promoters of DACAPO have over 15 years of applied knowledge in pest management derived out of dedicated hard work and exposure to complex pest problems in the past.
DACAPO is a well organized and professionally managed, government registered and all INDIA base IPCA certified PCO and established with a network of 11 branches / bases and a strong team of over 61 dedicated people. DACAPO has emerged as an organization with a good reputation by earning customer satisfaction. Today, DACAPO has on its clientele a large number of esteemed companies and major corporate and govt. organisation of repute and has consolidated the position in the market as an organization who offers value for money.
With the present infrastructure and a dedicated band of technically qualified and trained service personnel, DACAPO is competent to efficiently handle and complete successfully any volume of pest management assignments anywhere in the country. This brief company profile is an earnest attempt to project our strength to impress upon you with a better insight of the organization and to identify the key personalities behind DACAPO successful struggle and the purposeful existence over 12 years.