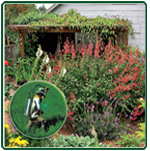 We love the beautiful gardens that our climate can provide. Whether at home or at work, we expect to see beautiful landscapes. We work hard to create and preserve these lush exterior spaces.
Our pest control technicians are trained to be triple certified in home and landscape pest control, and integrated pest management through EcoWise Certified. There is no other pest control company in southern California acquiring state licensing and certification for all their technicians in all these pest control competencies!
We are very fortunate to have staff who live garden pest control. We don't simply treat plants, we learn to know and appreciate them. When we come visit your garden, we come with a smile because we love what we do.

Customer-Focused Plan Selection
Our staff takes special care to ask and listen to the many factors that determine the best treatment plan for you. Factors include your desire for prevention, safety, the micro-climactic conditions conducive to pests, sanitation and infestations in surrounding properties, areas of the yard or acreage to be covered. Responding to your requests, we offer weekly, monthly, bi-monthly and quarterly plans! Other plans can be tailored to meet your needs.

Flexible Scheduling
Our staff will listen, as you describe your daily routines. We work closely with you to determine the best day of the week, best time of day, who needs to be available during treatments, how to circumvent workers and loved ones (children, pets, elderly, pregnant women) during visitations. We will take care of the pests on YOUR schedule. We respect just how busy you are. We always offer: Set week and day with pre-notification. Time of day arrangements can be made.

Budget Sensitivity
We offer pricing to meet your budget. You choose the number of visits and the associated price. We do not lock you into the schedule that is most profitable for the pest control company, as is often the case. You choose what fits your periodic and yearly budget requirements. (Treatment results will vary based on frequency of treatment).

Technician – Thorough, Communicative, Trustworthy
Our goal is to provide added value to the customer, not available anywhere else in the pest control industry. We look for the brightest and train our technicians to view themselves as consultants. Our "consulting technicians are patient, knowledgeable and ready to provide best-of-practice treatment. Many pest control companies seem to be satisfied to have low trained, low paid, easy-going technicians who spray and go. At Hearts, our technicians are put on a path to achieve higher-level triple certification in structural and landscape pest management, and IPM (integrated pest management).
Ethics is intrinsic to every aspect of our training, from sales to service to teamwork. Our jobs can be routine, but when our customers need that extra TLC, they get it from someone who cares. Our customers are often surprised how dynamic and not routine our jobs are. Because we are always inspecting, we find the unexpected. When our customers ask us to reach into our bag of in-depth knowledge, they know they can count on us to provide correct and complete answers to their pest problems. And they know we are ready and able to handle the most difficult jobs. Ultimately, our job is to take studied risks, under all the necessary safeguards, so our customers may enjoy a happier and healthier lifestyle.

Health Consciousness
Nowadays, people serious answers about the health risks associated with pest control. Child and pet protection are a serious concern of families, when it comes to yard care. Plans are made with every family to coordinate treatments to protect their loved ones. Our Focus on Organics program eliminates many concerns, but coordination and partnership with customers is still very important. While our systems for landscape pest management is geared to low impact and organic treatments, specific programs may require higher dosage or toxicity treatments.
All our programs are based on the principle of applying the least amount of pesticide that will effectively do the job. ll our programs involve a strong focus on site inspection and active monitoring, which is why we complete a specially designed worksite safety evaluation form, to protect all parties for the liabilities and hazards associated with pest control treatments.